Fire departments who need a user-friendly firefighting operations program will benefit from choosing FlowMSP. To ensure department-wide adoption of new technology, a program needs to be easy to use. Everyone on the roster can quickly pick up this simple yet powerful digital toolkit.

Plus, you get great pre-planning tools.
Dispatch Notifications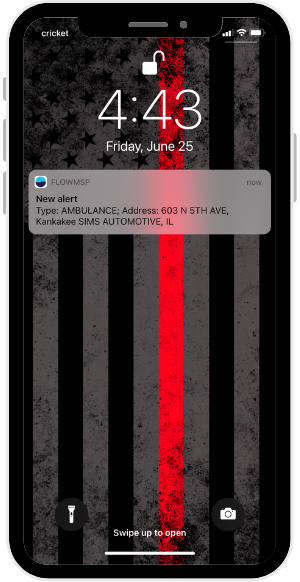 FlowMSP delivers computer-aided dispatch notifications on any device, including Apple, Android, and web-based systems.
Because firefighters need reliable alerts, our implementation team works directly with your dispatch center to connect CAD services.
FlowMSP customers often receive dispatch notifications in advance of station tones.
Customize ringtones and receive alerts even when your phone is on silent mode.
High Hazard Notes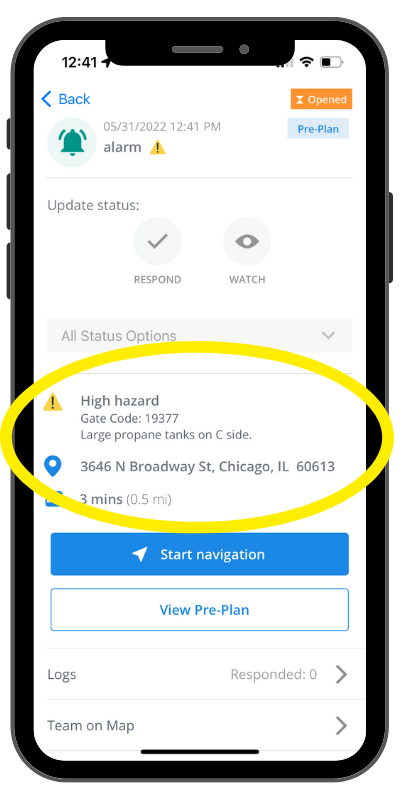 A single tap on a dispatch notification brings responders to the incident response screen.
Here responders can quickly review high hazard pre-plan notes related to the incident location.
This makes incident commanders aware of dangerous conditions before they start making tactical assignments.
The high hazard symbol also displays with the dispatch notification on the FlowMSP mobile app to alert responders to special conditions.
Instant Access to Pre-Incident Plans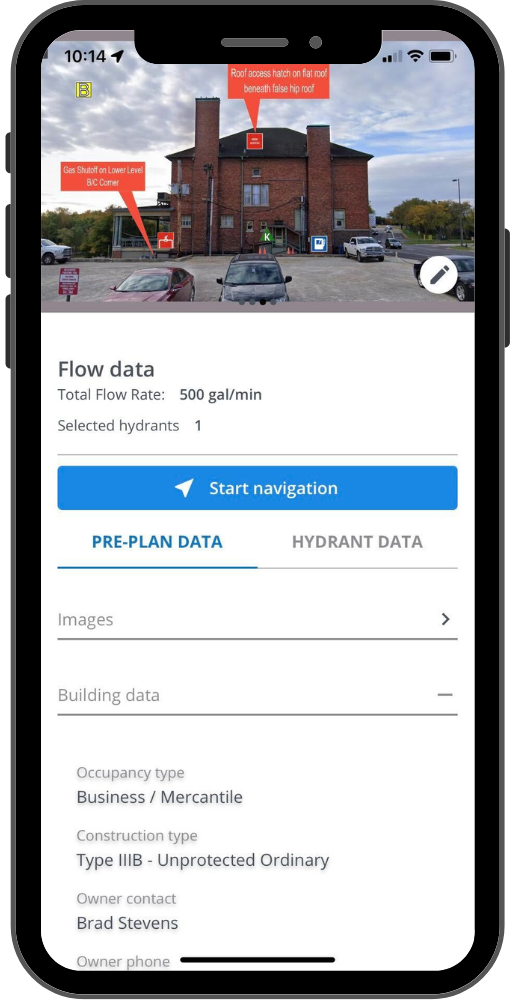 A second operations tool responders can easily access from the incident response screen is pre-plans.
Incident commanders can tap the "View Pre-Plan" button and review the pre-plan photos, building and location information, and more.
By the time ICs arrive on scene, they already know where key assets are located and who to call for access to the building.
On-scene pre-plan access equips incident commanders to make the best tactical decisions.
Mapping and Routing Tools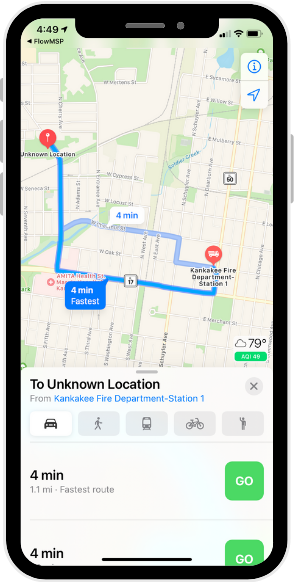 Every user-friendly firefighting operations program should contain an easy mapping and routing tool.
Using FlowMSP's mobile app for Apple and Android, responders can tap "Navigate" from the incident response screen.
Then, the incident location immediately populates on the device's native map tool (Apple Maps or Google maps) with route options.
Simply select your preferred route and tap "go" for turn-by-turn directions. This also syncs with smart watch devices.
Estimated Time of Arrival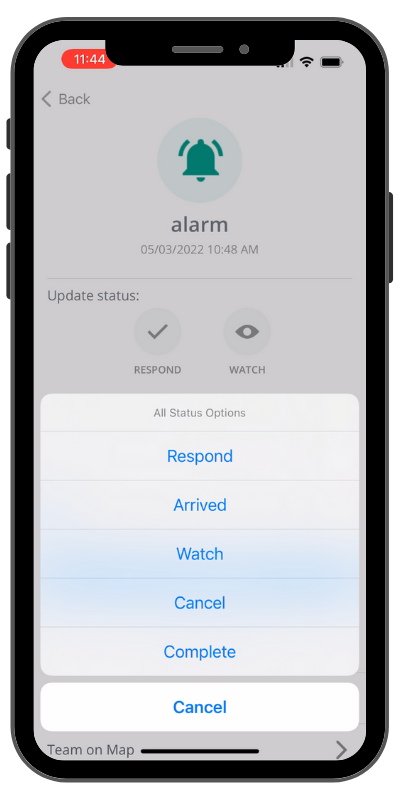 FlowMSP's user-friendly operations tools for firefighting include an estimated time of arrival feature.
A single tap on the incident response screen allows all members to quickly indicate response status.
Here responders can also see who is responding and receive estimated time of arrival for all members.
Plus, incident commanders can plan tactical assignments based on who is responding and when they will arrive.
Team on Map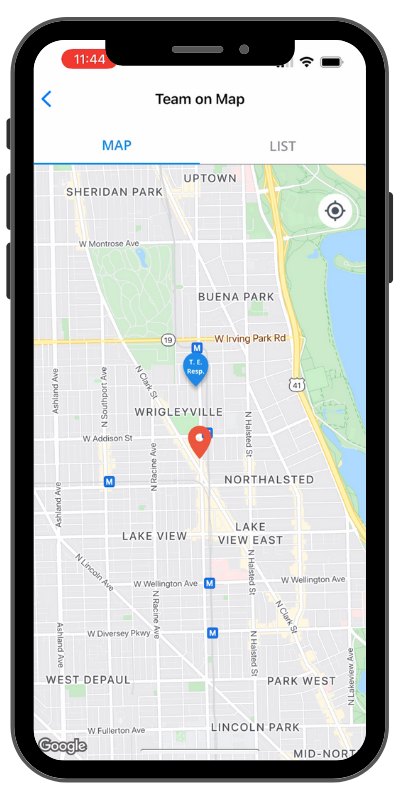 The Team on Map feature provides an easy way for incident commanders to see who is responding and where they are.
As personnel indicate response status, icons appear on the map showing their locations.
Then, the map icons move as responders approach the incident location.
When personnel arrive on scene, the program automatically updates their response status.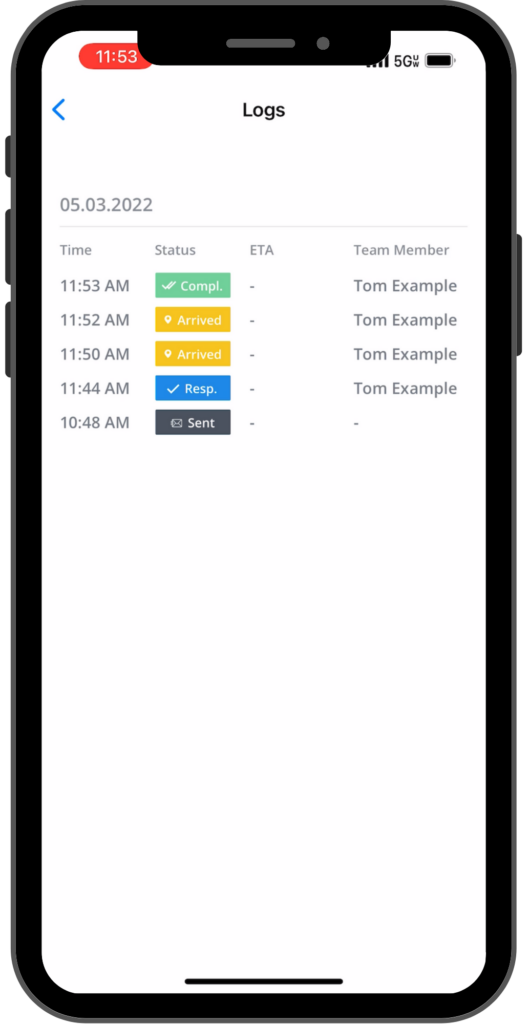 The Team on Map feature also automatically creates a time-stamped log.
This log is useful for post-incident reporting. It shows who responded, what time, and which status they indicated.
It also records each status update and the estimated time of arrival for personnel en route.
The Most User-Friendly Firefighting Operations Program
All FlowMSP operations tools have one thing in common: user-friendly design. Many firefighting operations programs overcomplicate their tool sets with too many unnecessary features and settings. As a result, personnel become confused, frustrated, and resistant to the new technology.
To avoid these problems, FlowMSP keeps it simple. Each of these tools offers a quick and easy way for a firefighter to accomplish a task without having to think about it. FlowMSP's ease of use makes department-wide adoption of new technology possible.
Get Started
Are you ready to see how FlowMSP can help your department improve firefighting operations? Request a web demo, and a member of our team will answer your questions and provide a custom demonstration.
Stay Informed
Would you like to stay up-to-date on new technology from FlowMSP? Subscribe to our email list to learn about the latest developments.