Digital NFPA 1620 pre-incident plans replace paper plans to provide instant on-scene pre-plan availability. Because outdated or hard-to-access pre-plans keep departments from reaching their goals, many departments are now switching to digital formats.
The FlowMSP app equips firefighters to create a digital NFPA 1620 pre-incident plan in as little as 5 minutes. Plus, field personnel can easily update plans to ensure first responders have the most up-to-date version on-scene during an incident.
Parts of a Level 1 NFPA 1620 Pre-Incident Plan
Water Supply
An NFPA 1620 pre-incident plan must show each structure's water supply (NFPA, 2020, p. 14). Because fire hydrants are the most common water supply in commercial districts, FlowMSP's app ties the nearest hydrants to each building's pre-plan.
The app also auto-calculates the required fire flow based on the structure's roof square footage and number of floors above and below. Then, it figures the sum of the nearest hydrants' flow rates and tags the best hydrants to meet water supply needs.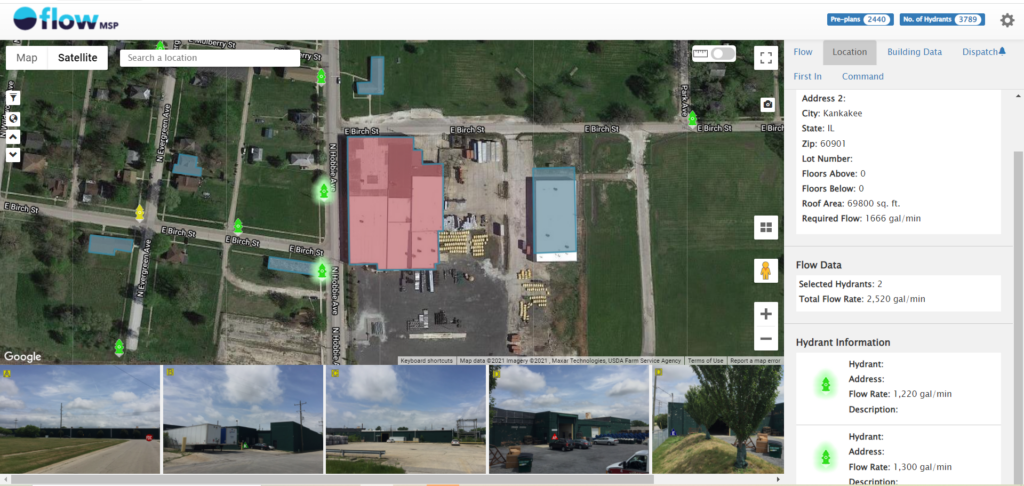 To populate the map with hydrant locations, either upload your department's hydrant file or manually add hydrants. Each hydrant icon represents a data point which houses hydrant data. This includes flow rate, address, and description.
Building and Location Data
Both the desktop and mobile versions of FlowMSP's pre-incident planning tool equip field personnel to quickly and easily create NFPA 1620 pre-plans. With drop-down menus and built-in formulas, personnel can enter data fast.
Address and Location Name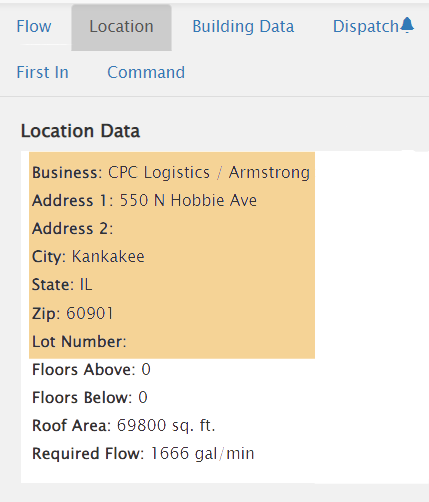 Address and location name are two of the first requirements for a pre-incident plan.
Using Google's satellite mapping, the Flow app auto-populates each address based on latitude and longitude.
Simply enter the location name and lot number, if desired, and the address is complete.
Lock Box Location
FlowMSP uses annotated images to quickly display the lock box location. The digital pre-plan allows personnel to take a photo and add a green K (for Knox) lock box symbol to indicate the location. Additional notes may be added in the Notes section of the building data tab.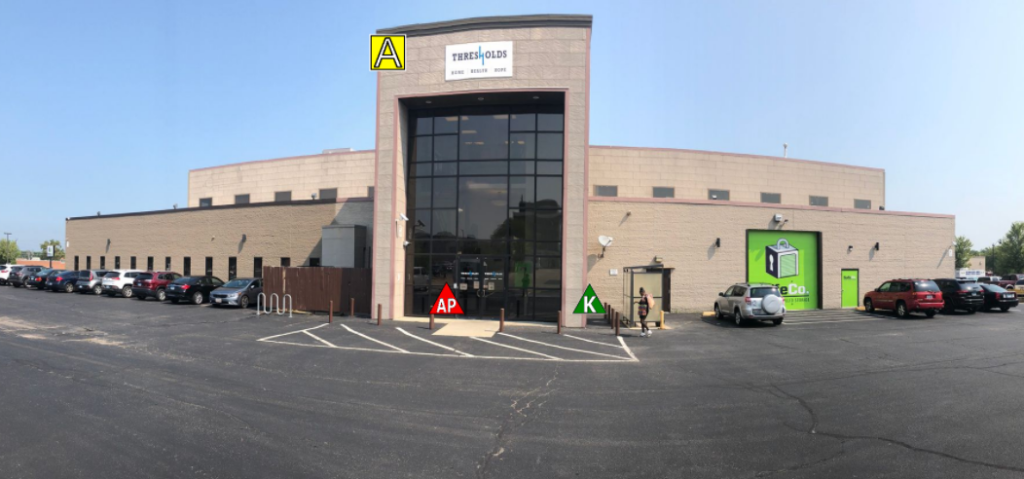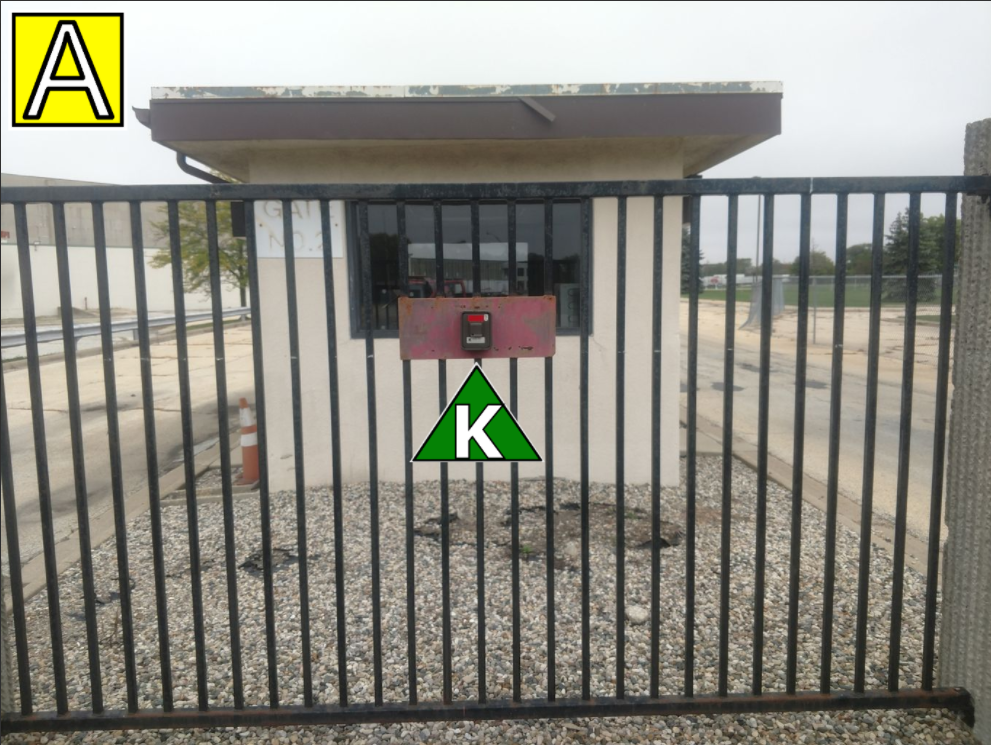 Construction Type
A basic NFPA 1620 pre-plan requires information on building and roof construction (NFPA, 2020, p. 12).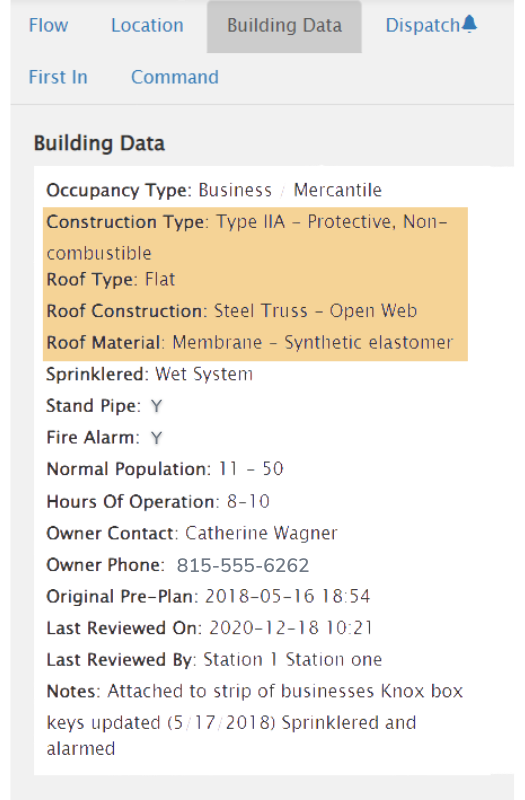 When creating a digital pre-plan, personnel can use drop-down menu options to quickly indicate building construction type.
Fields for roof type, roof construction, and roof material add layers of detail to the construction type portion of the pre-incident plan.
Dimensions and Fire Flow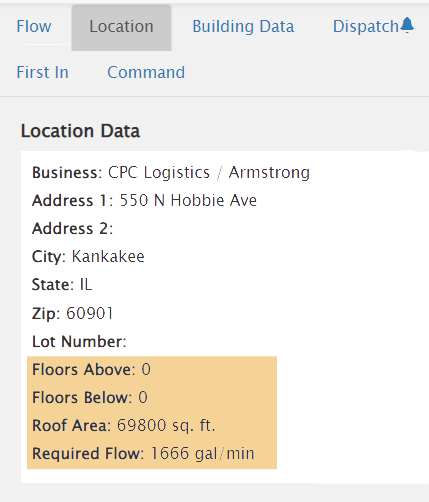 When you trace the outline of a building in the FlowMSP app, the program automatically calculates the dimensions.
This information displays in the Roof Area field in the Location Data tab. In addition, personnel may add the number of floors above and below.
The FlowMSP app automatically calculates required fire flow for each structure based on its dimensions using the National Fire Academy method.
Fire Protection Systems (Sprinkler/Stand Pipe, FDC Connection, Fire Alarm Control Panel FACP)
FlowMSP's pre-planning app satisfies the NFPA 1620 standard's requirements for fire protection systems in two main ways. First, annotated photos give a visual reference for assets such as alarm panels, FDC connections, sprinklers, etc.
Second, the drop-down menu items in the Building Data section allow field personnel to quickly indicate whether or not different fire protection systems are present.
Notes
Similarly, field personnel can add notes directly to photos as annotations. Or, they can type notes into the Notes section of the Building Data section.
Special Hazards, Entrances, Exposures, Stairs, Etc.
All hazards, building details such as entrances and exits, stairs, and exposures to surrounding buildings may be photographed and annotated. Adding symbols and special notes to photos communicates information at a glance. As a result, field personnel avoid misunderstandings.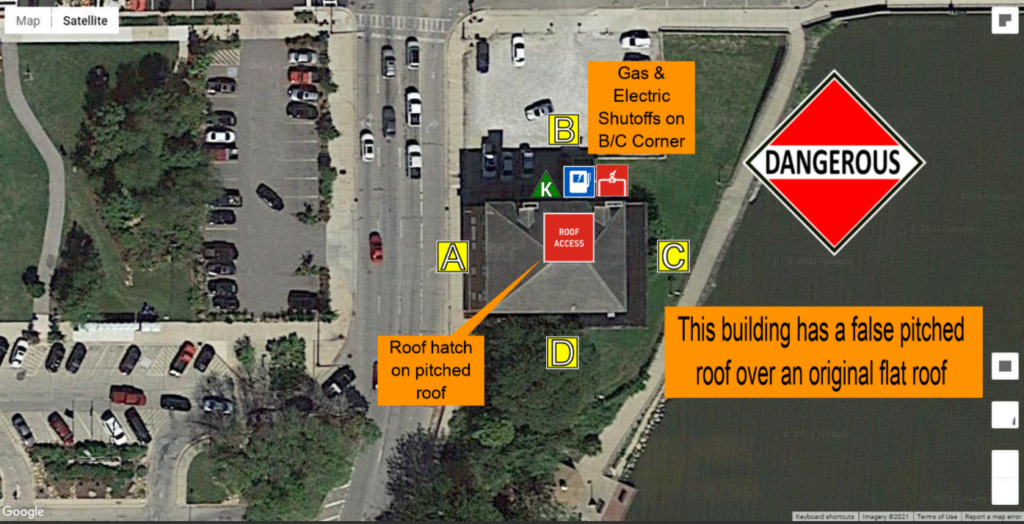 More Information
The FlowMSP app captures more than just basic pre-plan information. To see how Level 2 and Level 3 NFPA 1620 pre-incident plan details live within FlowMSP, request a web demo. A member of our team will take you on a personal tour of the program and answer your questions.
Reference
National Fire Protection Association (NFPA). (2020). NFPA 1620 Standard for Pre-Incident Planning.
Disclaimer
FlowMSP, Inc. is an independent company. We are not affiliated, associated, authorized, endorsed by, or in any way officially connected with any other company, agency or government agency. All product and company names are trademarks™ or registered® trademarks of their respective holders. Use of them does not imply any affiliation with or endorsement by them.
The information posted represents the views and opinions of FlowMSP, Inc. and has been made available for informational and educational purposes only. The information on this website is provided "as is" without any representations or warranties, express or implied.