Rock Community Fire Protection District is placing a high priority on finding and filling the holes in our pre-incident plan data. Every firefighter knows the value of a good pre-incident plan, but why this sense of urgency?
As a captain, there are certain buildings where, when the alarm sounds, the hair kind of stands up on the back of your neck because that's a big, scary building. So, having up-to-date pre-plan data helps you make the right call going in there, especially when you will be the first or second unit. And not just those buildings, but any building. We want to make the right call, every time.
Challenge: Rock Community Fire Protection District needed an efficient way to prioritize tasks and track pre-plan completion for 2,500 commercial occupancies covered by 15 different engine crews.
Solution: Identified incomplete pre-plans, prioritized high hazards, and assigned pre-plans to field personnel using the FlowMSP administrative dashboard tool. Collected over 14,600 pieces of pre-plan data so far.
Main Goals
Rock Community's Pre-Incident Plan History
From Paper to Digital
Rock Community Fire Protection District has maintained various types of pre-incident plans throughout the years. Beginning with hand-drawn buildings, we then shifted to CAD drawings and floor plans. We eventually incorporated photographs and cloud-based pre-planning tools as well.
Our department understood the value of high quality pre-incident plans for operations, so we assembled a committee to oversee pre-plan creation and data maintenance work. Committee members took responsibility for keeping the data organized and making sure the pre-plans were getting done correctly so our first responders could use them.
Managing Data for 2,500 Occupancies
Though we had a good set of tools and good people doing the work, maintaining pre-plan data for 2,500 commercial occupancies seemed impossible. The challenge was first recognizing which pre-plans were complete to a standard and which ones need to be worked on, then prioritizing and assigning those out, and finally following up with QA.
A year ago our pre-plan program administrators were using pdf documents and spreadsheets from the fire marshal's office. We were trying to sort through those and figure out what was what. There was a lot of redundancy in the information, and looking through those spreadsheets was very frustrating. Eliminating duplicate records and figuring out what was still missing took a lot of time.
Task Prioritization
Then, we were trying to take a highlighter and prioritize things, or do that process on the computer. I had 6 or 7 different colors that meant different things to me. It was very cumbersome trying to remember what everything meant from one working session to the next. As a result, it was difficult to identify target hazards and prioritize which pre-plans to assign first.
We could not make very much headway on completing our pre-plans because of the lack of organizational tools. When FlowMSP learned of this challenge, they invited Rock Community FPD to partner with them to create a solution. This unpaid collaboration eventually led to the creation of the FlowMSP administrative dashboard tool, which solved our problems.
Setting Goals and Building Tools
Our partnership with FlowMSP began with a lot of questions. The company wanted to gain a deep understanding of the challenges pre-plan program administrators face. So, they asked things like:
Suppose we had a way to identify your target hazards?
What if we identified which pre-plans were assigned to a particular engine company?
Do you want a way to quickly and see a baseline percentage of completion for each pre-plan?
Really just questions about what we needed the program to do. We had a series of meetings to try different things and see what would work best. These conversations led to a clear set of goals for what we wanted to accomplish:
Easily identify what has been done and what hasn't
Quickly identify target hazards and prioritize which structures to plan first
Easily assign pre-planning tasks to the engine companies
Automatically track completion on pre-planning tasks
Easily see which pre-plans are done and ready for QA
Once FlowMSP understood what we needed, they built prototype tools for us to test. We spent several months using them, providing feedback, and making a lot of tweaks to build what eventually became the administrative dashboard.
Challenges and Solutions
Identifying What Has Been Done
The first big challenge we faced was knowing what was done and what wasn't. FlowMSP was able to build the administrative dashboard, a live spreadsheet that automatically updates when pre-plan data changes. Whatever pre-plan information we already had in there, it gave us a clear picture of which occupancies had which information.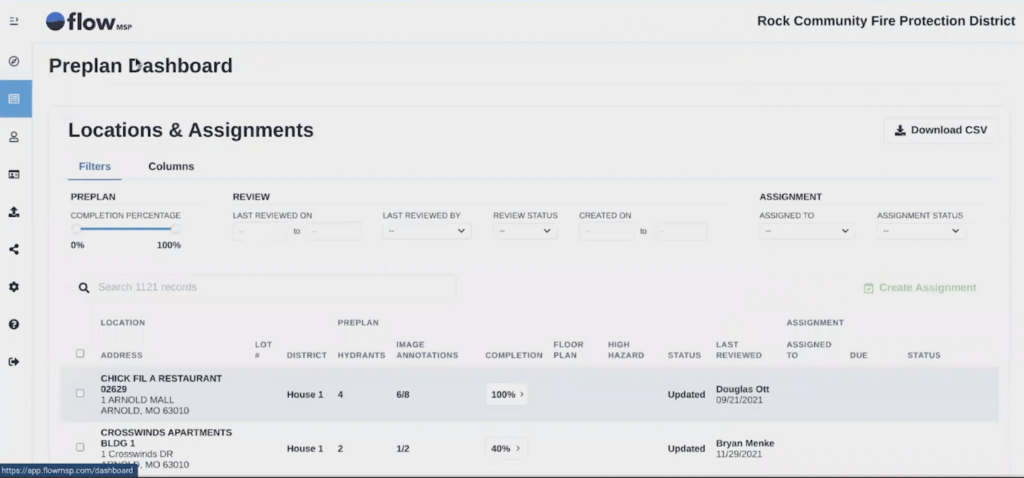 Knowing Who Is Responsible for Each Occupancy
The second big challenge we faced was trying to make pre-plan assignments to personnel at five different engine companies and three different crews. FlowMSP built a "District" column where I could indicate which still area is responsible for each occupancy. That was a big help because now I can choose a particular still area and type it in the search bar, and it will pull up all the commercial occupancies for that company.
Pre-Plan Standardization
When you have 15 different engine companies working on pre-plans you have 15 different people deciding what they think is a complete pre-plan. To fix this, FlowMSP built a completion rate tool which provides a standardized list of what a basic complete pre-plan should include.
The beautiful thing about this is, when I assign this out to somebody, they can see the completion percentage and click it to see exactly what they need to get to 100%. They can see the missing building data, missing images and annotations, etc. This tells them exactly what to do.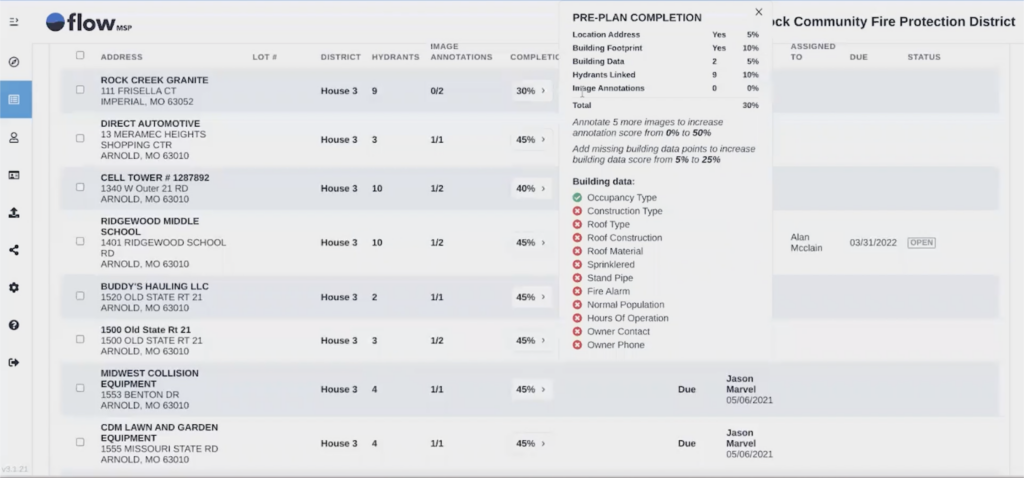 Identifying Target Hazards and Prioritizing Tasks
For the high hazards, we wanted a place to indicate and give high priority to those occupancies. This column makes it easy to sort the occupancies, find the highest hazards and assign those for completion first. When you use the column sort, it will bring those to the top.
I go to each still area, check the target hazards to see what has been assigned and make sure all of those are assigned out. That way we do the worst first, and the lower-risk occupancies afterward.
Assigning Tasks and Tracking Completion
After identifying which pre-plans need work, I can assign the occupancies in bulk to the company officer for the appropriate still area. Then, they can easily access their assignments from the dashboard, and the dashboard automatically updates as they complete their tasks. I can check their progress periodically from there.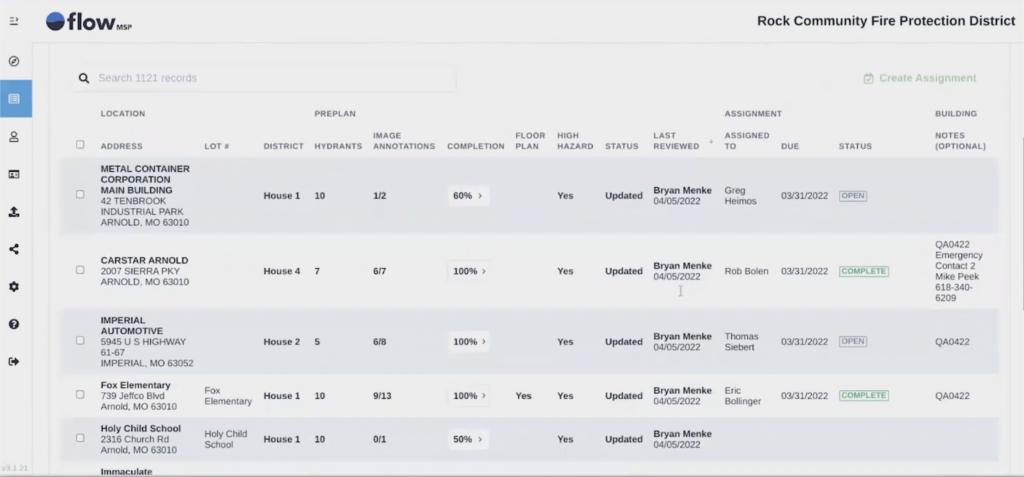 Knowing Which Pre-Plans Need QA
Once someone completes a pre-plan, I will go in and QA it. I look at the completion percentage, and find the ones that are 100%. Then, I go through and check the photos and building information for each pre-plan to make sure everything looks good. Finally, I add a QA month/year in the notes section. I can use the dashboard to sort by pre-plans with notes to see which ones have been QA'd or not.
FlowMSP is continuing to build out this tool as we work with the program and identify the best way to display the QA details.
The Process
Now that we have the administrative dashboard, Rock Community Fire Protection District can efficiently manage the pre-plans for our 2,500 commercial occupancies. We already started identifying and assigning our high-hazard occupancies to personnel for completion.
Our department set a goal to complete a pre-plan for every commercial structure in our district. Once we finish our high-hazards, we will move on to our other buildings. Using a phased approach, we will gradually increase the number of occupancies assigned to our crews each month.
Currently, each shift at each engine house owns two pre-plans per month, which is very easy to complete. We plan to pick up the pace as people become accustomed to doing them. Then, once our basic pre-plans are completed, updating them each year will be quick and easy.
Benefits to Rock Community
Because Rock Community FPD has a way to make pre-plan completion possible, we can provide our first responders with complete, accurate, up-to-date pre-plan information on every commercial call. What used to be an impossible project is now possible for us.
Our members and our citizens will benefit from the increased situational awareness that pre-plan data provides our first responders, especially incident commanders. High quality pre-plan information delivered at the right moment equips us to make the best possible call, every time.
---
Get Started with FlowMSP
Are you ready to see how FlowMSP can identify your missing data and help your department fill the gaps? Request a web demo, and we will walk you through it.
Stay Informed
Want to stay informed about the dashboard and other new FlowMSP tools? Subscribe to our email list and receive updates every week.