Light duty work for firefighters keeps field personnel productive as they heal from injuries and other issues that prevent physical work. Not only does light duty work help members earn a living while injured, it also boosts morale and provides a sense of purpose during a difficult time.
Light duty gives firefighters an opportunity to complete important work that often gets pushed to the back burner. Lack of time while running calls often results in departments missing work that is necessary but not urgent, such as pre-incident planning.
Pre-Incident Planning on Light Duty
How can a firefighter on light duty still make a difference for fire operations? Pre-incident planning gives injured field personnel a chance to use their expertise to protect their fellow firefighters.
Modern technology makes it possible for firefighters to complete many parts of an NFPA 1620 pre-plan from a desk, chair, or bed. As a result, injured firefighters rest their bodies while still doing meaningful work.
How to Pre-Plan from the Station
Many key steps for pre-planning now happen from anywhere, on any device connected to the Internet. Whether using a computer or mobile device, members accomplish tasks such as the following:
Identify target hazards in the community
Prioritize which locations to pre-plan
Use satellite mapping tools to take overhead-view screenshots of buildings
Use Google Street View to capture A-side views of buildings
Attach existing PDFs, floor plans, MSDS sheets, etc. to pre-plans
Call building owners to verify contact information
Note building hazards, gate codes, and other helpful information
All of this light duty work for firefighters can be done from a desk, recliner, or bed. As long as the firefighter retains the ability to use a computer or mobile device, he or she can do this work.
Pre-Planning With Some Mobility
If the member on light duty retains some mobility and can walk around, other pre-planning tasks include:
Visit locations to collect building and contact information
Walk around and through the structure to take photos
Identify hydrant locations and adding them to the map
Note hazards such as propane storage and chemicals
Plan staging areas for apparatus
Identify rural water supply sources and access points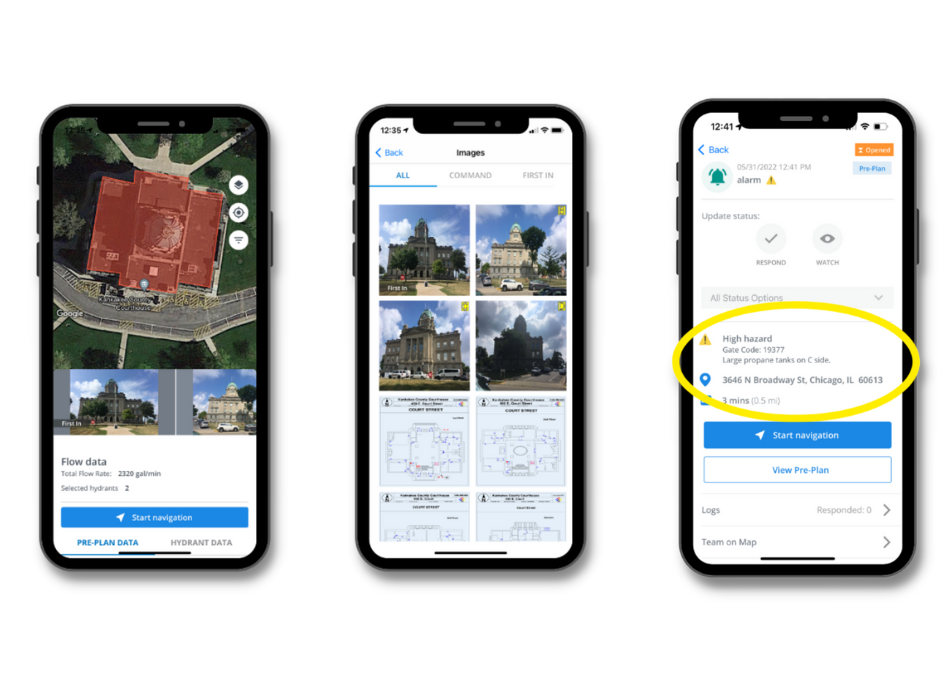 User-Friendly Pre-Planning Tools
All of this may sound great, but how can an untrained firefighter create high-quality NFPA 1620 pre-plans? User-friendly pre-planning tools make the difference when it comes to light duty work for firefighters.
The FlowMSP program gives field personnel a simple yet powerful way to quickly create NFPA 1620 pre-plans on any device. Whether at the station or in the field, firefighters using FlowMSP quickly learn the steps to create and update pre-plans.
Because departments need an easy way to teach members how to correctly pre-plan, FlowMSP also offers SOGs for pre-planning. These easy-to-follow documents walk personnel through the steps to create NFPA 1620 pre-plans using the FlowMSP tools.
In addition, FlowMSP maintains a library of training videos on YouTube. These videos show how to do every part of a pre-incident plan using both the web app and the mobile app.
Addison Fire Protection District's Approach
Addison Fire is a career department with a light duty policy. Soon after we purchased the FlowMSP program, one of our members went on light duty. We took this opportunity to complete as many pre-plans as we could while this person healed.
Light duty provided us the benefit of one person working with the new program and fine-tuning best practices for creating pre-plans. As a result, this allowed us to design a guideline of what to do for an initial pre-plan.
From this light duty position, Addison completed over 3,000 initial drawings as well as the satellite view photo (top down) and Alpha side, thanks to Google Street View tool. If we only had shift members completing these, we would not have achieved the same results that year.
Day-to-day operations and calls tend to shorten the time frame to work on pre-plans. Assigning light duty work for firefighters Monday through Friday with only pre-planning tasks helped us reach our goals much faster over the first year of implementing FlowMSP.
Start Providing Light Duty Work for Firefighters
To start providing light duty work for firefighters, involve them in your department's pre-incident planning program. Whether you already have a program or need to start one, equip your light duty personnel to help.
Provide meaningful work to carry your firefighters through a difficult situation and make faster progress toward your pre-planning goals at the same time. Use their knowledge and free time to create complete, high-quality pre-plans that improve fire operations.
---
Try FlowMSP's User-Friendly Tools
If your department needs user-friendly pre-planning software, take a look at FlowMSP. Request a web demo, and a member of our team will answer your questions and walk you through our program.
Stay Informed
Want to stay informed about new tools and features from FlowMSP? Subscribe to FlowMSP emails for weekly updates.