Incident commanders need to know field personnel's estimated time of arrival to gain a tactical advantage during firefighting operations. The coordination between the first due company and others arriving at the scene (including mutual aid and auto-aid agencies) needs to be precise, and well executed.
Time of arrival is not always easy to estimate in the heat of the moment. To increase efficiency and safety, FlowMSP is making it a top priority to develop a robust Estimated Time of Arrival feature. We combine this and other response features with our on-scene pre-incident plan availability to streamline incident response.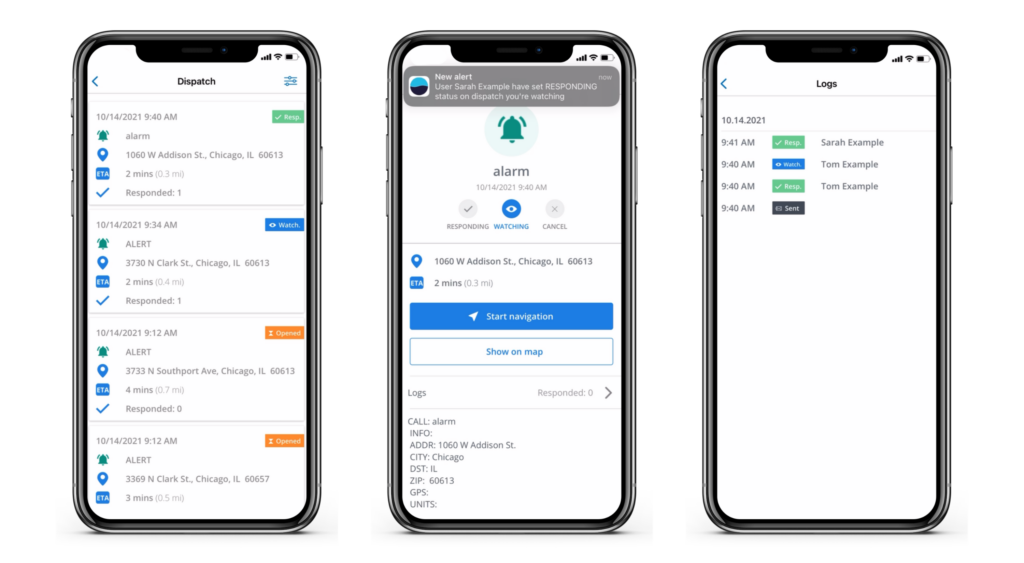 With FlowMSP's mobile app, customers now have Estimated Time of Arrival (ETA) information available via their dispatch notifications.
Estimated Time of Arrival Phase 1: Response Status
FlowMSP's new ETA feature is being released in phases. Phase 1 (current phase) equips field personnel to quickly indicate incident response status and view responses from others. As a result, the app displays three main things: who responded, what time they responded, and which response status they indicated.
Indicate Response Status
First, when a new dispatch notification comes in, personnel tap the push notification or dispatch tab in the app and select the incident. Next, they choose their status: "respond," "watch," or "cancel." Or, for even faster response, they can simply swipe the incident notification on the dispatch screen and indicate response status.
Know Who Is Responding
Then, after indicating response status, each person's response will display in the activity log. From there, everyone can see a list of responders, and each response is time-stamped. This not only provides in-the-moment information, but it also serves as a record for post-incident reporting.
In addition, responders receive push notification updates that show who else responds. If personnel choose to watch an incident rather than respond, they will still receive push notifications whenever someone else responds.
Phase 2: ETA for Individuals
In the upcoming Phase 2 update, all personnel at all stations will see the ETA for each person who selects "responding" as their response status. Because they will see each responder's location on the map, this will replace some of the radio-based coordination between responders and command.
Phase 3: ETA for Apparatus
And finally, in Phase 3, the FlowMSP Estimated Time of Arrival feature will include three main additions:
Response status for fire apparatus
Estimated time of arrival for each "responding" apparatus
Location of fire apparatus on the map
Continuing to Build
Every fire department wants to improve efficiency and safety for firefighters. Because we're on a mission to serve firefighters, we have made these FlowMSP's goals as well. Developing ETA is just another in a long line of steps we're taking to equip firefighters with the best, most safety-conscious information available.
See How It Works
Want to see how all the FlowMSP features work together? Request a demo, and a FlowMSP team member will give you a tour of our app. Plus, we can answer any questions you have about pricing and how everything will work for your department.