FlowMSP's integration with Hexagon, the industry-leading computer-aided dispatch (CAD) system, means quick and easy access to pre-incident plans, right from the CAD screen. By building an API between the two platforms, both agencies work together to serve first responders the most critical information, fast.
When Seconds Matter
When seconds matter, responders need a streamlined way to access pre-plans for unfamiliar buildings. No one has time to search through file folders or flip through a binder to find pre-plans. Because efficiency makes the difference for daily pre-plan use, we built the integration with Hexagon.
Integration with Hexagon
En route to an incident, field personnel rely on Hexagon's HxGN OnCall mobile app for public safety. This includes everything from incident location and incident type, to updated CAD notes, to mapping and routing. FlowMSP's integration with Hexagon puts pre-plan access squarely in the middle of these components.
Instead of toggling between different tabs on the computer in the rig, the user now has easy access. As a result, personnel will be more likely to include pre-plan review as a regular part of the incident response workflow.
1-Click Access to FlowMSP
If field personnel en route to an incident realize they are responding to an unfamiliar or high-hazard building, they can access FlowMSP pre-plans with one click. First, they click the FlowMSP button within HxGN OnCall. Then, the FlowMSP program immediately opens. The dispatch feed on the right provides a list of the most recent incidents.
Simply tap your incident, and the map snaps to the incident location. From there, you can tap the structure to access all building and occupancy information, required flow rates, photos and more.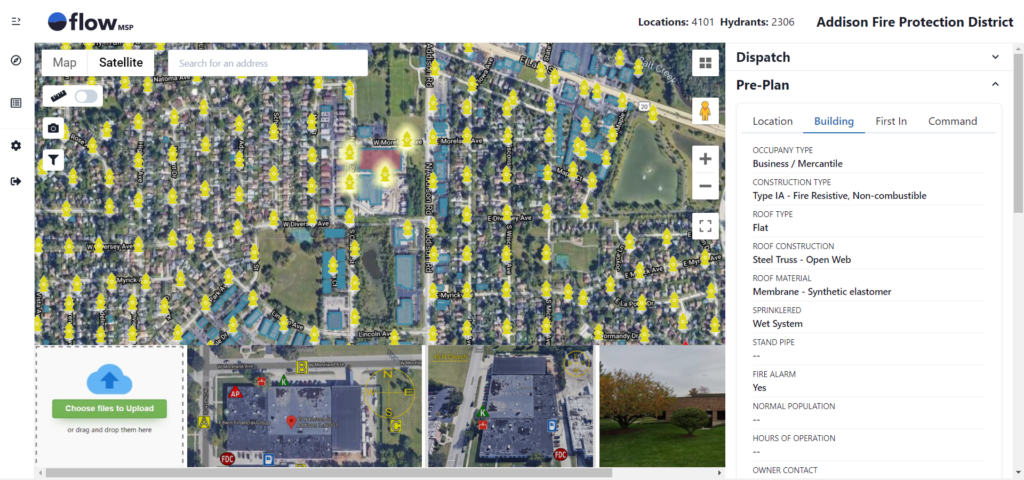 Request a Demo
Ready to learn more? Whether you are a FlowMSP customer looking for a new CAD solution, a Hexagon customer looking for a pre-planning solution, or someone new to both programs, request a demo. A member of our team will show you how the integration with Hexagon works and answer your questions.
Stay Informed
Want to keep up-to-date on new products and features from FlowMSP? Subscribe to our weekly emails to stay informed.